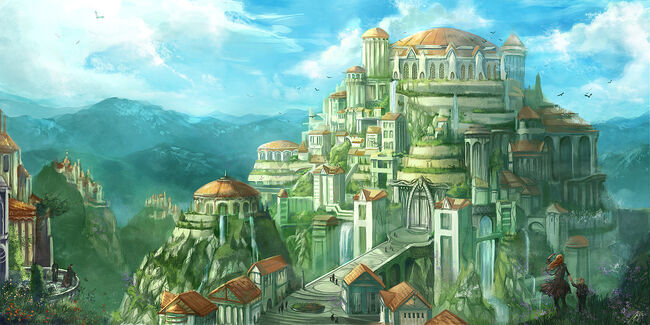 The Hall of Heroes is a Training, RP, and Battle location. Occompanied here are the world's greatest heroes who align their powers together to create a World Wide Association of Universal Superheroes. The Hall is made up of a total of 10 buildings each for its own different purpose. The Hall serves more as a tourist attraction and a place for Villains to direct their attention to conceal the real meeting place of the greatest heroes ever known. The Hall is restricted to most, as only a chosen few are even let inside most of the buildings. The only building open to public is the Trophey building, and the Literal Hall of Heroes where they have statues of the greatest heroes to ever live and those who had fallen in battle fighting for the greater good. Heroes can live and train here if they so choose. Once inside any of the buildings, all of them are magically connected and lead into a sort of "Mini World" inside of the buildings, causing it to have its own sky, vegetation, and weather along with limitless developing potential.
To Enter the Hall of Heroes you must have defeated a major Villain in an arc along with being the rank of "Hero".
Training Building
Training Slot 1
Training Slot 2
Training Slot 3
Training Slot 4
Training Slot 5
Training Slot 6 
Training Slot 7
Training Slot 8
Training Slot 9
Training Slot 10
Training Slot 11
Training Slot 12
Training Slot 13
Training Slot 14
Training Slot 15
Training Slot 16
Arena 
Battle Slot 1
Battle Slot 2
Battle Slot 3
Battle Slot 4
Battle Slot 5
Battle Slot 6
Battle Slot 7
Battle Slot 8
Battle Slot 9
Battle Slot 10
Battle Slot 11
Battle Slot 12
Battle Slot 13
Battle Slot 14
Battle Slot 15
Battle Slot 16
​Mission Appliance Center
RP Area
Ad blocker interference detected!
Wikia is a free-to-use site that makes money from advertising. We have a modified experience for viewers using ad blockers

Wikia is not accessible if you've made further modifications. Remove the custom ad blocker rule(s) and the page will load as expected.